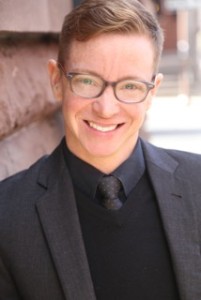 Eli R. Green, PhD is an interdisciplinary sexualities scholar, Assistant Professor of Public Health at William Paterson University and Adjunct Assistant Professor in the Center for Human Sexuality Studies graduate program at Widener University. He is the founder of The Transgender Training Institute, and Dr. Green's book, The Teaching Transgender Toolkit:  A Facilitator's Guide to Increasing Knowledge, Decreasing Prejudice & Building Skills co-authored with Luca Maurer, is the first of its kind to provide detail best practices and guidance for teaching transgender content. His research focuses largely on reducing prejudice toward transgender people and communities through education and training. Dr. Green holds a PhD in Human Sexuality Studies from Widener University, in addition to Masters Degrees in Human Sexuality Education (Widener University) and Applied Women's Studies (Claremont Graduate University). Dr. Green is a Certified Sexuality Educator (CSE) through the American Association of Sexuality Educators, Counselors & Therapists (AASECT), and is a member of the World Professional Association for Transgender Health (WPATH).
LGBTQ Consultant, Specializing in Transgender-Inclusion & Training
Dr. Green is a nationally recognized trainer who helps non-profits, direct service, medical providers, and educational professionals expand their LGBQ and transgender-related cultural competency.  As a consultant, he has developed and leads LGBQ & transgender specific train-the-trainer courses, and provides ongoing technical assistance and coaching for current educators and trainers.  Dr. Green has worked extensively with the NYC Administration for Children's Services LGBTQ Policy & Practice Office's initiatives to ensure that all LGBTQ & TGNC (transgender and gender non-conforming) youth in foster care, congregate care, and juvenile justice are safe, respected, and affirmed.  As a part of this work, he co-authored the Safe & Respected best practices guide, and accompanying training curricula for service providers and foster parents.
Dr. Green's company, The Transgender Training Institute (TTI), provides training and consulting services are informed/provided by transgender people, for the benefit of transgender people and communities. TTI services include expert facilitation of transgender-related professional development trainings, creation of customized curriculum, technical assistance and training of trainers/facilitators (TOTs).
Research & Scholarship
Dr. Green recently conducted a national study examining the effectiveness of teaching transgender-related topics in undergraduate courses, particularly as it relates to reducing prejudice towards transgender and gender non-conforming people.  His research was honored with Widener University's Center for Human Sexuality Studies Distinguished Dissertation Award and the Society of Psychological Study of Social Issues (SPSSI) Social Issues Dissertation Award second prize. His ongoing research continues to evaluate the effectiveness of transgender-related education in community-based settings, specifically the effectiveness of transgender cultural competency staff trainings within foster care settings.  In addition toThe Teaching Transgender Toolkit:  A Facilitator's Guide to Increasing Knowledge, Decreasing Prejudice & Building Skills, his scholarly publications include best practices for working with transgender youth in foster care, the politics of transgender inclusion in feminist spaces, creating transgender-inclusive sexuality education, and best practices when teaching online undergraduate sexuality courses.